DOSING AND DELIVERY FOR THE ANORO ELLIPTA INHALER
ANORO is delivered in an easy-to-use inhaler5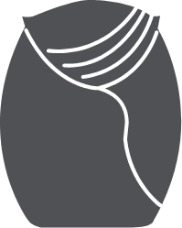 Inhalers in study did not contain active ingredient. Inhaler image is for illustrative purposes only.
93%
OF PATIENTS
rated the ELLIPTA inhaler as easy to use
At the conclusion of a 4-week clinical study of patients with COPD (N=266), 93% of patients demonstrated correct use and rated the ELLIPTA inhaler as easy to use5
Inhalers did not contain active treatment.

A 28-day, open-label, placebo study designed to assess ease of use of the ELLIPTA inhaler in patients with COPD (N=266), among patients using the inhaler correctly on Day 28. Correct use was evaluated using instructions derived from the prescribing information for products delivered in the ELLIPTA inhaler. At enrollment, patients were allowed up to 3 attempts to demonstrate correct use (with training between attempts 1 and 2, and attempts 2 and 3, if necessary), and all patients were able to demonstrate correct use. On Day 28, patients were evaluated for correct use in a single attempt without additional instruction; 97% demonstrated correct use. "Easy to use" was defined as a rating of very easy or easy on a 4-point scale (very easy, easy, difficult, very difficult).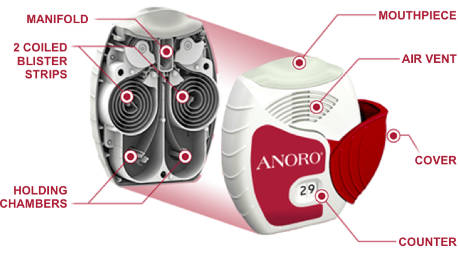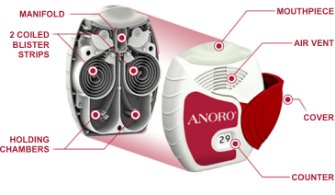 Breath actuated:
Requires no hand-breath coordination
Single-step dose activation:
When the inhaler is opened fully, the contents of both blisters are combined in the manifold and ready for inhalation by the patient. Each time patients open the cover, they will hear a clicking sound and the dose counter will decrease in number
If patients open and close the cover without inhaling the medicine, they will lose the dose. Any lost dose is securely held in the holding chambers and is no longer available to be inhaled
It is not possible to accidentally take a double dose or an extra dose in one inhalation
Dosing:
ANORO should be administered as 1 inhalation once daily, at the same time every day
Do not use ANORO more than 1 time every 24 hours
Contents:
2 blister strips with 30 blisters each


1 contains umeclidinium: 62.5 mcg/blister*
1 contains vilanterol: 25 mcg/blister*

Each inhaler contains 60 blisters and provides 30 doses for a 30-day supply

An institutional pack is also available, containing 14 blisters, and provides 7 doses for a 7 day supply

*Also contains lactose monohydrate and magnesium stearate.